Miryam Aubert  director of the Au pair Agency Au pair Australia, has both worked as an au pair through the UK, Canada and in Australia. She has hosted au pairs as a parent to help care for her children and has seen the au pair relationship from both sides. She has seen when things go well and when they go very badly for au pairs and the host family. She often gives advice to both prospective au pairs and prospective au pair families and has decided it's time to weave the advice into a short blog.  This blog has a selection of tips on how to be a great au pair and how to find a family that will embrace your visit and draw you into their family.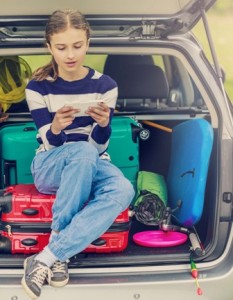 Many young people love to travel but unfortunately it can be an expensive hobby. Living and working as an au pair in Australia can be a great way to travel affordably. Not only that, you also get to embed yourself in the home life of the country and meet locals, whereas on a backpacking holiday you might find yourself surrounded by other travellers. It's a great option for people you love children and enjoy being part of a family. What is an au pair? The term au pair comes from French and means 'on the same level'. The au pair lives with the family in the role of a big brother or sister to younger siblings.
They have a set number of hours each week which they spend on child care and usually take on some level of household chores. In most cases you'll be in a home where the parents work but in some cases you might be in more of a mother's helper role.
This is particularly common if there are a few young kids at home such as families of multiples (twins, triplets etc.). It's a role where your jobs might change week to week or even day to day as the families needs change. The au pair will generally eat meals with the family and receives full board and accommodation. as well as a 'pocket' money allowance each period that they can save or spend on their own needs. In some households the au pair may also have the use of a car. This can vary a lot between families as you may find that some families have a more formal employer-employee relationship with their au pairs, and others have a more informal relationship. How much do au pairs get paid?
The going rate for au pairs will change from country to country and will also depend on the numbers of hours that you do each week as well as the number and age of the children in the household.
You may also be able to negotiate a higher rate if you have formal qualification in childcare and/or first aid. Extra experience such as working as a nanny, tutor or babysitting may also let you negotiate a slightly higher rate than an unexperienced au pair on a gap year.
Generally, the rates go up in areas where there are issues getting au pairs such as remote parts of Australia or farms. Au pairs with multiple children in their care, or very young children to look after such as twin babies may also receive more money. Au pairs are in high demand in some areas, and can be in oversupply in popular metro locations.
Equally if the child has some extra needs such as a disability the au pair may get paid more for the work. If you are eager to help out families with disabilities it can be good to get qualifications and experience before you leave home, as this can help parents feel more confident into your abilities to deal with the extra challenges of looking after a child with disabilities. The pay is negotiated between each family and the au pair. It's important when comparing the packages that each family is offering to consider items such as paying for a mobile phone, use of a car, paid time off, use of a public transport card and internet access.
Sometimes you will find that you have a lot more expenses in a home that offers more money and as a result you'll have less money to save or explore. In order to get an idea of how much au pairs get paid in Australia, they are usually paid between $6 ad $7 AUD per hour plus accommodation and meals.