Why Au pair Australia
We select carefully our Au Pairs and include in the database only those that match our requirements and those who can get the working holiday visa. More...
What does an Au pair do
The responsibilities of an au pair are diverse and may vary to some extent depending on the specific needs of a family. The primary responsibility of an au pair is to provide childcare support to the host family. More...
What is an Au Pair
They are young people from overseas that come over to Australia for 6 months to live with an Australian family and take care of their children... more
Why host an Au Pair
I would like to talk to you about five unexpected benefits about hosting an au pair, these are things you might not realize you can also enjoy as a host family.... more
Clic here to get the Au pair in Australia Handbook.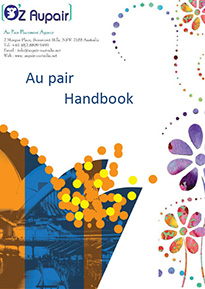 Au Pair placement process
1: Complete the Application
Family completes our online registration form with photos of the family, No registration fee to register
Upon receipt of your application we present detailed information on the potential applicants to you that best fit your requirements: language, age, children experience, driving skills, etc. 
2: Each profile includes:
Au Pair application.
Letter to the family.
Photographs of them with their parents, siblings and / or children who care.
At least 2 childcare references
Certificate of criminal record
Extra Certificates of the au pair (first aid, Language Certificates, etc.)
3: Select Your Au Pair
Our team will assist you in arranging an interview with your potential Au Pair. We invite you to telephone the Au Pair to discuss the placement, suitable start dates and confirm the placement. 
(It is an opportunity for both parties to discuss things like home duties, working hours, children duties, free time...etc.
Upon completion of the interview, we will get everybody's feedback and either confirm a placement or you may review further Au Pair profiles.
4: Confirmation of her Placement and Getting Ready for her Arrival
Once you are happy with the Au pair, we ask you to confirm her placement. At this time of confirmation, our agency will send to both the agreement form with a full description of the au pair tasks.
We will then send you a Pack to assist you in preparing for the arrival of your Au Pair. The pack includes Au Pair Australia own Host family Handbook containing a wealth of information about hosting an Au Pair.
5: Travel to Australia is organized
Support During the Placement
Travel to Australia is organised and paid for by the Au Pair. The Au pair proceeds to book her flight and get a working holiday visa. (This usually takes few days) And the family is advised of all final travel arrangements (including date, flight numbers, arrival times, etc). The au pair arrives in Australia at her own expense. You will be required to meet your Au Pair at an airport/train station on her arrival.
Once your Au Pair starts her placement with your family, our team is available to support both, you and the Au Pair for the duration of the placement.