Choose a Program
Once you've signed up we can start processing your application and matching you with suitable families. Of course, you get to choose your own host family. You will never feel pressure to accept a family you do not feel 100% confident about working for. We will provide you with all of the details you need to make a decision about a potential host family, including a job description and clear outline of everything that is expected of you. 
All of our families follow our Au Pair Programme guidelines which means your pocket money, holidays and benefits are set by us, and not by the family. This means you will get the best job and pocket money possible through OZ Au Pair Australia
Register today:
1- Choose a Program. Click here to choose from our 3 programs
2- Click on the image below or the next link to Download the application form. Or click here to complete the Online form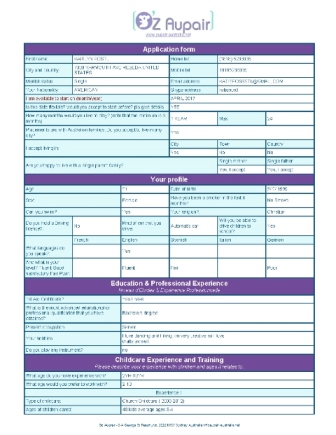 3) Your profile is introduced to our registered families and an interview with them is arranged
4) Match with a screened host family of your choice. The family completes your contract
Once a match is made, you can book your flights and travel insurance and apply for your visa**
** Please Note 
A valid passport and travel insurance is compulsory to take part on the Au Pair in Australia programme. To work as an Au Pair in Australia you are required to obtain a working holiday visa.